My Journey Into Woodworking
My intimidation with woodworking started the moment we moved into our new house.  It was beautiful and I was overjoyed to finally have our own home! However, it was also builder's grade and I wanted to personalize it to reflect and fit our family.  As I sat down and made a list of everything that I wanted to put my stamp on, I was completely overwhelmed.  Drowning in a sea of uncertainty. I was paralyzed.  How was I going to frame out windows, construct a mudroom, and build massive built-in bookshelves in our playroom?  Where could I even start on my own?  
Luckily, I have a very handy husband and he quickly got to work on completing my dreams.  As we moved from project to project; I was amazed at how many different saws, drills, drill bits, sanders, and the list goes on that he was learning to use and that we were accumulating.  I did not know how to use any of them or where to put all of them!  After each project was finished, my husband would stand and admire his handywork. I could feel the pride he had in creating something out of nothing with his own hands. I was proud of him, but I wanted to feel proud of myself for tackling a woodworking project.
My first project of framing out our bathroom mirrors, did not go as smoothly as Pinterest said it would…  Tears streaming down my face, I realized I could not figure out how to use the chop saw or the measuring tape.  Something that seemed so simple on paper, I was defeated and embarrassed.
My husband has the patience of a saint.  He stepped in and directed my actions-letting me do the cuts and measures under his supervision. I HAD to do it myself.  I wanted to feel the sense of pride that comes from conquering something that had greatly intimidated me.
After many trips to the hardware store and several hours of instruction.  I finally stepped back and saw my creation, my finished masterpiece (at least in my eyes).  I had done it! Conquered it and I was busting with pride.  It is a poor comparison, but I felt like Rosie the Riveter, bandanna and all.  I had done a "man's job" and I was flexing majorly. The sense of pride was immense!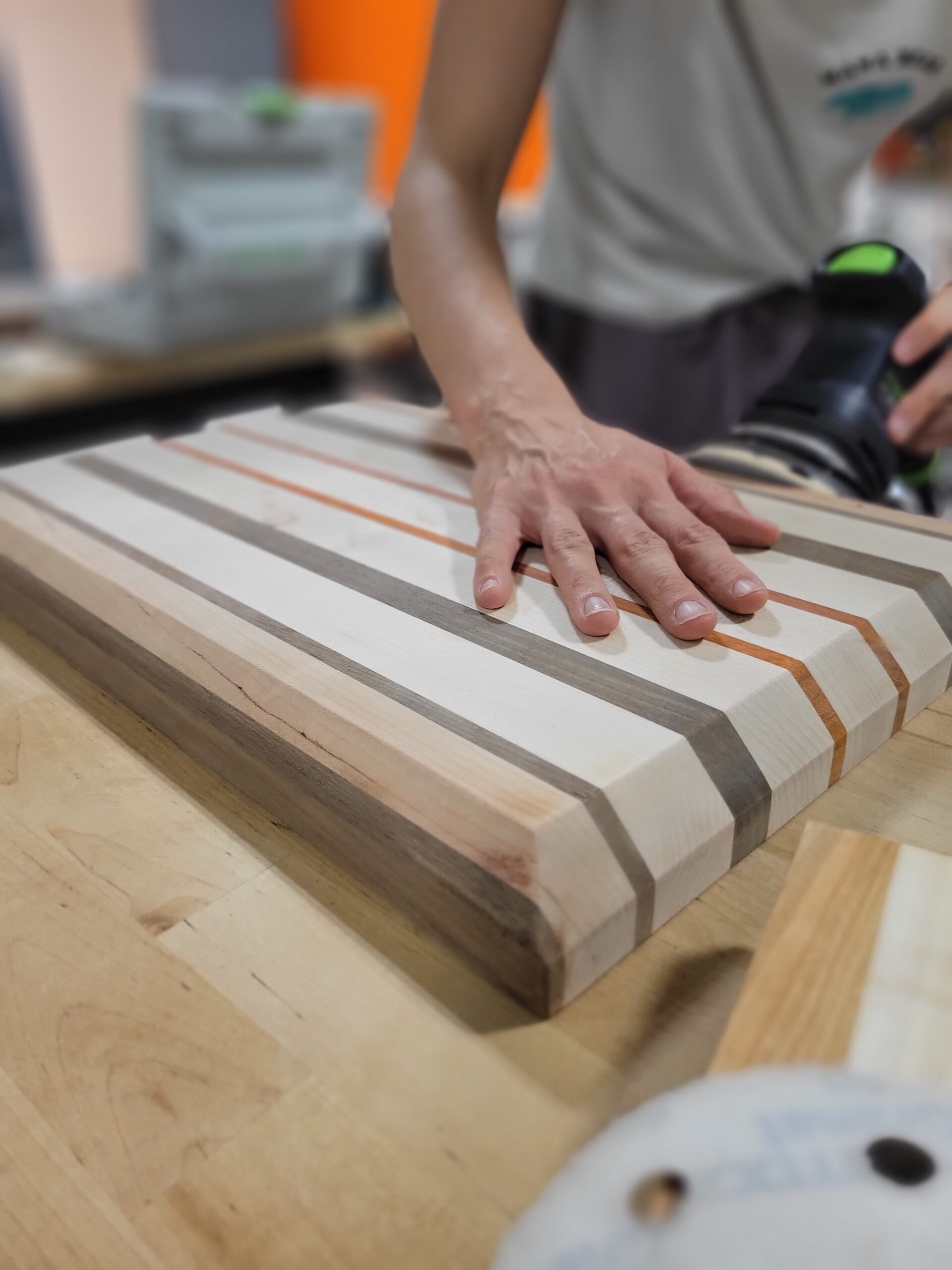 For myself and maybe other women, taking on a drill press or a planer can be daunting.  I am still learning how to use the larger machinery, but now everything seems attainable.  My thought now is- I can do that.  Thanks to Maker's Bench I CAN do that!  Tools and machinery are readily available, along with employees who are knowledgeable to guide you through your own project or class.  
The woodshop has opened an entire new world for me of creativity, fun, hard work, and immense pride in what I have and can accomplish in the future.  Nothing compares with the feeling of stepping back and having a tangible piece to touch and share with others.  I made that with my own two hands.  I want everyone to experience that pride in self and have a good time in the process.  Maker's Bench has made me a creator, problem solver, and a craftswoman.
Address
5000 Goodman Drive,
Unit 101
Timnath, CO 80547
Hours
By appointment during these hours:
Tues & Thurs: 10 a.m. - 8 p.m.
Wed & Fri: 10 a.m. - 3 p.m
Sat: 10 a.m. - 5 p.m.
Sun: 10 a.m. - 4 p.m